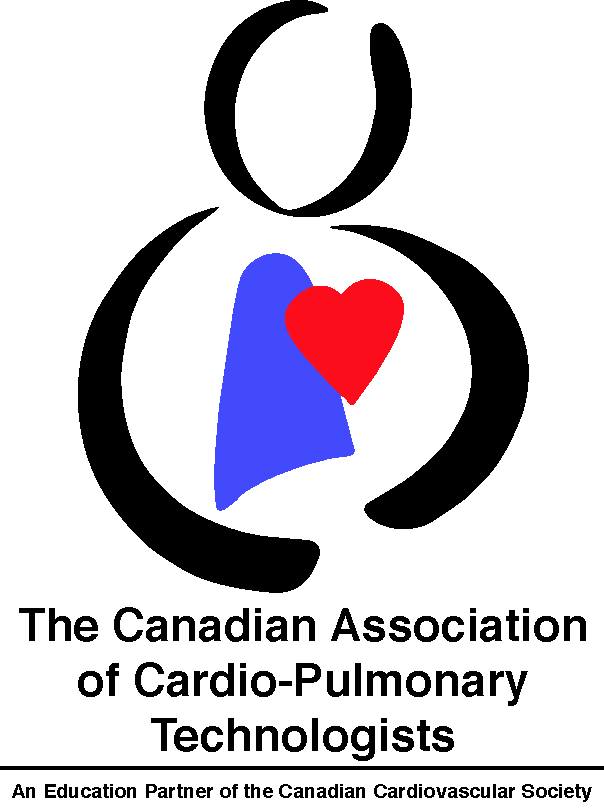 Welcome to The Canadian Association of Cardio-Pulmonary Technologists.
The Canadian Association of Cardio-Pulmonary Technologists membership is composed of technologists employed in the Heart Catheterization Laboratories and/or Pulmonary Function Laboratories. The Registered Technologist works closely with the physician in order to provide information relevant to the patient's diagnosis, prognosis, and surgical risk. The Registered Technologist requires specialized skills in order to perform the diagnostic and therapeutic procedures used for the investigation and treatment of pulmonary and cardiovascular disorders. He/she must have extensive knowledge of instrumentation and techniques, and furthermore, must be able to elicit active cooperation from the individual patient during these procedures.
The CACPT is committed to maintaining the highest standards possible for all Registered Cardio-Pulmonary Technologists. The CACPT Bylaws, Standards of Conduct and Annual National Registry Examinations are designed to establish and maintain these high professional standards.
CACPT Statement on COVID-19
With the announcement of the COVID 19 pandemic on March 11, 2020, many PFT labs across Canada have stopped performing routine tests.  Pulmonary Function Testing is an essential service and labs are following pandemic protocols. As per the ATS statement, only urgent testing should be performed, with an emphasis on enhanced Infection Prevention Practices, including use of PPE.
It may be that we have all done our part to flatten the curve by staying at home, washing our hands and physical distancing as shown by the apparent decline in new COVID-19 cases across Canada. Testing capacity and restrictions may need to be adjusted during phases of COVID-19 prevalence.   We must reflect on our current practice and consider developing new guidelines with the information that is presently available.  There are a number of published statements that address the future of PFT labs such as the ERS, ATS, CSRT, PHO, etc to name a few.   
Until the specific guidelines are published for each province, PFT labs can start reviewing these areas of practice:
Pre-screening patients in advance of testing with Pre-Screening questionnaire.  Patients with COVID-19 symptoms should be referred back to ordering provider or public health authority

Reconfigure treatment spaces, offices, and waiting areas to accommodate physical distancing and hand hygiene

Consider changing local COVID-19 prevalence when adjusting limitations to test procedures and medical urgency 

Limiting number of patients to be seen and directing flow of patients to accommodate physical distancing 

Increasing times for PFT to accommodate enhanced post-test cleaning/decontamination of equipment and environment and air exchange 

Proper use of PPE and availability.   AGMP risks may need to be considered. 

Equipment modifications; additional steps to reduce equipment contamination and enhance patient safety
All PFT labs will need to confer with their provincial Infection Prevention and Control authorities as well as provincial health authorities when developing their policies.  Presently the CACPT will be participating in a PFT working group with the Canadian Thoracic Society to review standards during/post COVID-19.  
An additional resource to review changes to current practices is the Webinar Replay on Restarting Your Lab – A Pathway to resuming Diagnostic Testing During COVID 19; presented by Matt O'Brien (MS, RRT, RPFT, FAARC – University of Wisconsin School of Medicine & Public Health) and sponsored by MGC Diagnostics.  While this is a US perspective, many issues are similar for Canadian Labs.  The CACPT and Novus Medical Inc are collaborating with Matt O'Brien to incorporate information in the webinar for the Canadian audience.  Stay tuned for the Canadian Webinar to be scheduled in the last week of May.
References
American Thoracic Society:
Pulmonary Function Laboratories: Advice Regarding COVID-19
Canadian Society of Respiratory Therapists:
Position Statement on Procedures Creating a Heightened Risk of Infection During an Outbreak of a Communicable Respiratory Disease
European Respiratory Society:
Lung function testing during COVID-19 pandemic and beyond
Alberta 
Alberta Health Services:
Interim IPC Recommendations COVID-19
Aerosol-Generating Medical Procedure Guidance Tool novel coronavirus (COVID- 19)
College of Physicians and Surgeons of Alberta
CPSA's Advice to the Profession on Reopening Practice during COVID-19 CPSA Standards of Practice
Government of Alberta:
Resource Organizations
Canadian Thoracic Society
Canadian Society of Respiratory Therapists
 College of Physicians and Surgeons of each province
 Respiratory Therapy Society of each province
Any additional information and/or questions can be emailed to the CACPT at contactus@cacpt.ca or president@cacpt.ca
Laura Seed, RCPT(p), M.Sc.  President, CACPT                                        
Tony Kajnar, RRT/AA, RCPT(P)  Sault Area Hospital 
SPIROMETRY
CERTIFICATION
The September 28, 2020 sitting of the Spirometry Certification exam has been postponed.
Please stay tuned for the new date.
Please note
The 5th PFT Symposium 
Postponed
We look forward to
welcoming you in
September 2021
Cardiac Cath Lab
Pulmonary Function Lab
2019 PFT Symposium Presentations
2018 PFT Symposium Presentations